We were so excited to host our second cooking experience in August and focus on something near and dear to our hearts – canning! This lost art allows the home gardener to preserve the harvest for month's past the last frost. In this (sold out!) hands on workshop, our guests were invited to learn the step – by – step process of home preserving including tips and tricks passed down for generations.
Within the three hour workshop, each guest prepped and canned fresh from the garden tomatoes and enjoyed lunch and conversation around the Farmhouse table afterward. Chef Joy and Deb Huey led the day and we can't wait to dream up the next experience! See below for some photos of the event & a surprise recipe to get you started canning this season…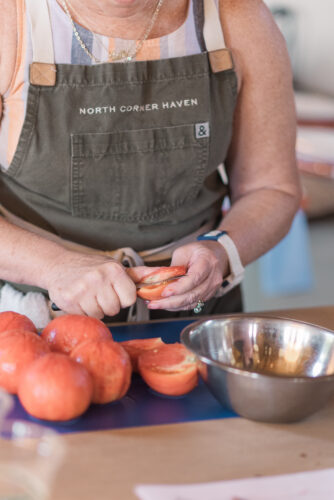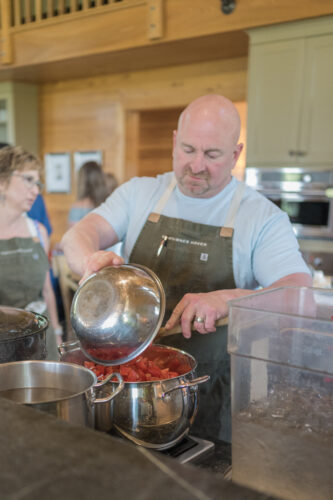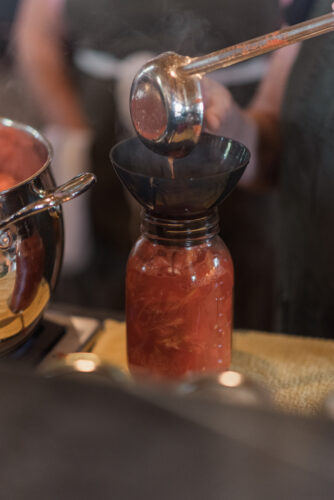 As an added bonus, we sent everyone home with a basic canning kit from Ball like this. If we could do it again, we'd probably send them with a more inclusive package like this one.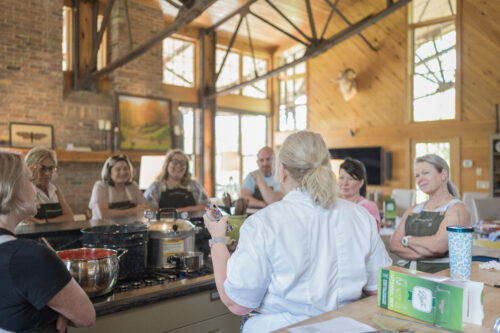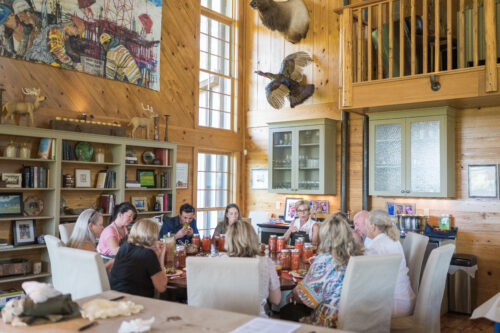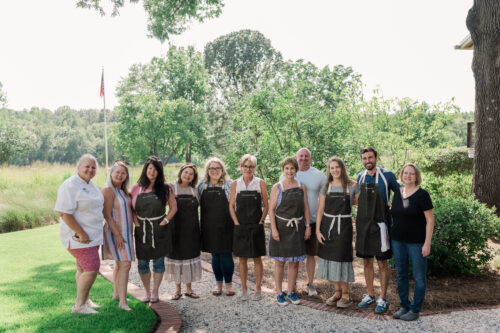 From the Farm Kitchen – Roasted Tomatoes 
This delectable Roasted Tomato recipe transforms simple garden-fresh ingredients into a burst of rich flavors that elevate any dish. With a handful of steps, you can create a mouthwatering dish that brings new life to tired-looking tomatoes and onions.
Ingredients:
3 lbs tomatoes, cored and large dice (garden fresh preferred)
0.5 lb onions, large dice – white or yellow onion preferred
4 cloves garlic, whole – peeled
0.25 cup extra virgin olive oil (browse a variety of high quality oils here.)
3 tablespoons balsamic vinegar
Salt and pepper to taste
Cooking instructions:
Preheat and Prepare: Preheat your oven to 425 degrees Fahrenheit (220 degrees Celsius). Lightly pan spray a rimmed sheet pan to prevent sticking.
Combine Ingredients: In a large bowl, combine the diced tomatoes, onions, and whole peeled garlic cloves. Drizzle the extra virgin olive oil and balsamic vinegar over the mixture. Gently toss everything together until the ingredients are evenly coated.
Spread on Sheet Pan: Spread the mixture evenly on the prepared rimmed sheet pan. Ensure the vegetables are in a single layer to allow proper roasting.
Roast to Perfection: Place the sheet pan in the preheated oven and roast for about 30 to 40 minutes. Keep an eye on the tomatoes and onions; they should develop a slight char and caramelization.
Flavorful Finish: Once the tomatoes and onions have achieved a delightful char, remove the sheet pan from the oven. Season the roasted vegetables with salt and pepper to taste. The flavors will intensify, offering a wonderful combination of sweetness and savory richness.
This Roasted Balsamic Tomato Medley is incredibly versatile. Serve it as a standalone side dish, spoon it over toasted bread for a bruschetta-like treat, toss it with pasta, or use it as a topping for grilled meats. The roasted flavors and balsamic glaze will surely impress your taste buds.
Interested in learning more about our upcoming community events? Be sure to check out our event calendar and sign up for our newsletter for more details.
All photos by Amy Ledyard.