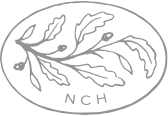 At North Corner Haven, we use farming as an approach to land management, with the aim of establishing regenerative systems that feed each other — and us, as well — happily.
Our Methods
Putting Permaculture into Action.
Over the last two years, our team has implemented several features on the farm based on living systems design and permaculture. We feel strongly about creating ecosystems within our larger farm while using specific methods to capture water, create animal habitats, problem solve and design our pathways and roads.
Our goal is to create ecosystems that will require minimal input to maintain and produce food. Over the years, these system will grow in complexity and abundance. North Corner Haven will evolve over time as the forest, farm and people work in harmony to create a thriving ecosystem that nourishes itself — and us — for generations to come.
How does it apply to our farm?
Specific practices we incorporate:
Using swales to capture water in high elevations to passively irrigate farm land
Establishing fruit and nut orchards where we can rotationally graze our pigs to be nourished by fallen fruits
Respecting the perennial, ancient wisdom of the forest
Our farming philosophy
Understanding permaculture principles in detail can take a lot of time, but our hope is that all of our guests can experience and enjoy its many benefits first-hand when visiting. Below are the tenets that make up the backbone of our farming philosophy here at North Corner Haven.
Every action taken on the farm is intentional.
We think beyond this season and the next when assessing a plot of land or planting a seed. We use our vision for the land in five years, in 50 years, and in 100 to guide our decisions today.
Food is a gift.
When we take care of nature, it rewards us through its abundance, providing us sustenance (that just also happens to be delicious), protection, and joy.
We enjoy sharing this gift.
It is deeply gratifying to be able to share our forest-raised pork, pastured eggs, and responsibly-grown produce with our guests. We are also actively seeking opportunities to get these products to friends off the farm, so that they and their guests can enjoy them as well. We look forward to becoming a source for specialty Carolina staples as well as seasonally foraged treasures in the near future.
Connecting — or reconnecting — with the land is a satiating experience.
The word "environment" has come to mean something completely separate from ourselves, rather than something in which we play an active part, or something that feeds us. The living systems that we implement and care for at North Corner Haven — from the trails and coves to the orchards and garden — are also perfect venues for hosting life's best and memorable moments.
Best-selling products
from the Farm:
We take care to grow food that strives to be better for the environment and for the individual by using regenerative farming methods. We offer local delivery and on farm pickup weekly, and invite you to browse our best-selling products from the Farm and add them to your weekly grocery order. #knowyourfarmer
Established in 1972 by family
for the love of the land.