Saturday, February 11th 2023
THE EXPERIENCE: Everyday, our goal is to create meaningful experiences at North Corner Haven and this year's Valentines Dinner was no exception. This sold out evening invited guests to the Farm to enjoy live music, delicious food and even better company. An intimate affair, guests mingled around the fire pits and gardens before entering the Cedar Barn for dinner. A truly memorable night, we were honored to help our guests celebrate their love. As the sun set on the day, the night faded into a blur of smiles, laughter, candlelight and even swaying on the dance floor for our guests…
THE MENU: Our Executive Chef Joy Turner dreamed up a menu to satisfy the senses and carefully curated a plate with ingredients grown locally and regionally.
The ingredients on your plate came from many wonderful growers + purveyors:
North Corner Haven, Freshlist, Bush 'N Vine, Street Fare Farm, Bluebird Farm, Boy & Girl Farm,  Barbee Farms, Ashe County Cheese, Homeland Creamery, Coldwater Creek, Wild Hope Farm, Urban Gourmet Farms, Small City Farm, Tega Hills Farm, River Bottom Dairy
BEHIND THE DESIGN: We worked closely with our friends at Curated Events Charlotte to design a romantic tables-cape for this valentines dinner. Their updated inventory includes a wide range of specialty tables, chairs and tabletop decor to match any desired design aesthetic.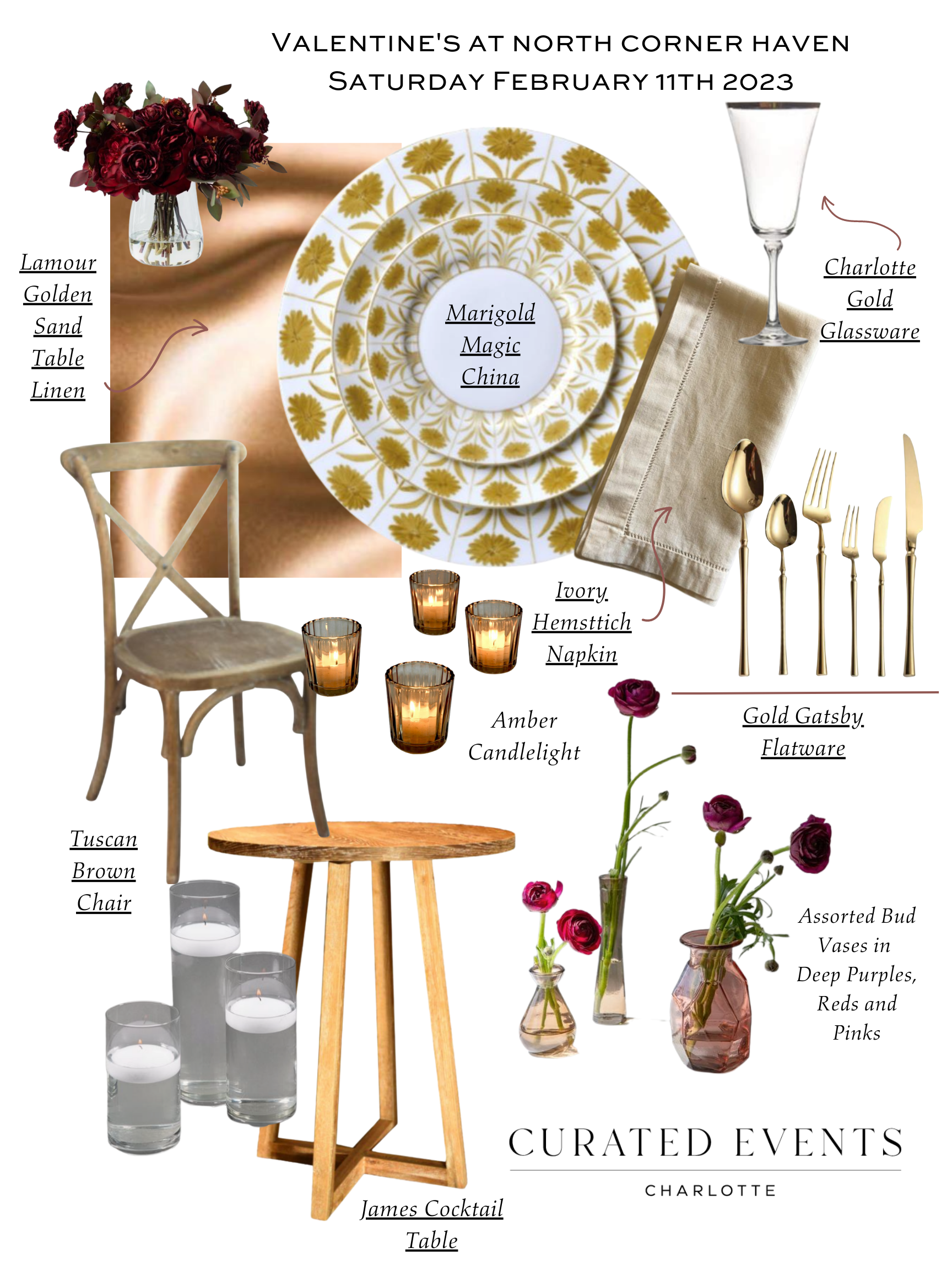 To view the details behind the design, click here. 
A special thank you to our partners for this event: 
EXPERIENCE THE FARM: Join us for our next Community Event, Forage and Feast on Saturday April 1st for an afternoon of Foraging, Mushroom Log Inoculation and a four course feast. Click here for details.