Traditional Braised Short Ribs
Add this classic meal that uses simple ingredients to your Fall menu. These traditional braised short ribs are cooked low and slow and will fill your home with the most delicious smells drawing everyone around the table. Have this cooking in the oven on a Sunday night while you prepare for your upcoming week or serve it up for a family gathering. Either way, it's guaranteed to leave your crowd wanting more!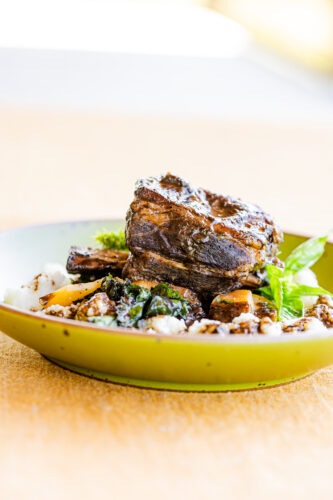 Ingredients List
Kosher salt

Extra-virgin olive oil

1 large yellow onion, cut into 1/2-inch pieces

2 ribs celery, cut into 1/2-inch pieces

2 carrots, peeled, cut in 1/2 lengthwise, then cut into 1/2-inch pieces

2 cloves garlic, smashed

2 large tomatoes

2-3 cups heavy red wine – a Cabernet Sauvignon would be great

2 cups beef broth

1 bunch fresh thyme, tied with kitchen string

2 bay leaves
Cooking Instructions
Season each short rib generously with salt. Coat a pot large enough to accommodate all the meat and vegetables with olive oil and bring to a high heat. Add the short ribs to the pan and brown very well, about 2 to 3 minutes per side. Do not overcrowd the pan. Cook in batches, if necessary.

Preheat the oven to 375 degrees.

While the short ribs are browning, prepare all the vegetables. When the short ribs are very brown on all sides, remove them from the pan. Drain the fat, coat the bottom of the same pan with fresh oil and add the vegetables. Season the vegetables generously with salt and brown until they are very dark and a fond (a crust of sorts) has formed on the bottom of the pan, approximately 5 to 7 minutes. Scrape the fond and let it reform. Scrape the fond again and add the wine and scrape the bottom of the pan. Lower the heat if things start to burn. Reduce the volume of the mixture by half.

Return the short ribs to the pan and add 2 cups broth or until the broth has just about covered the meat. Add water if necessary. Add the thyme bundle and bay leaves. Cover the pan and place in the preheated oven for 3 hours. Check periodically during the cooking process and add more water, if needed. Turn the ribs over halfway through the cooking time. Remove the lid during the last 20 minutes of cooking to let things get nice and brown and to let the sauce reduce. When done the meat should be very tender but not falling apart. Serve with the braising liquid.
Serve these short ribs with some buttery mashed potatoes or even some homemade rolls. A great homemade dish that is full of comfort food flavors. Yum! 
Don't forget to grab your short ribs from our Farm Shop! Our pasture raised Beef is raised right here on the Farm and can be delivered to your door! Learn more.