Honey & Chili Pork Meatballs | Featuring North Corner Haven Ground Pork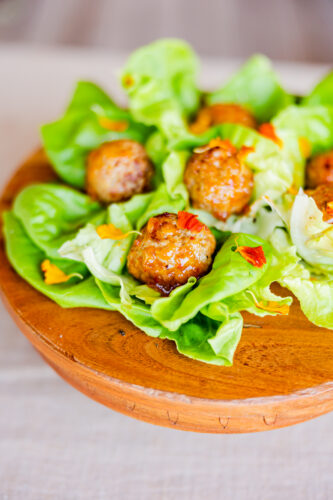 There is nothing better than a sweet honey dish mixed with a little bit of spice. These homemade Honey and Chili Pork Meatballs are perfect for any occasion. It's a quick but delicious meal using our forest-raised pork coated with spicy ginger-honey sauce for some nice flavor.
Ingredients List 
For the Meatballs:
1 1/2 pounds Ground Pork 

¼ cup minced onion

4 large cloves garlic minced

3 tsp minced ginger

1/2 tbsp sesame oil

Kosher salt & pepper
For the Spicy Ginger-Honey Sauce:
3 tbsp sesame oil

1 tsp minced garlic

3 tbsp minced ginger

2 tbsp rice wine vinegar

¼ cup honey (our raw honey is the best!) 

1-2 tbsp Chili with Garlic Sauce depends on how much you enjoy heat

1 tsp cornstarch

Cilantro for garnish
*you could also use our honey with this sauce recipe from Love & Lemons…. 
Cooking Instructions
For the Meatballs:
Combine all ingredients together and form balls. They will be wet, thats fine! Just get them to hold together. Place on a baking sheet until ready to cook.

When ready to cook, preheat the oven to 350 degrees.

Place on a baking sheet and bake for 20 minutes or until cooked through.
For the Spicy Ginger-Honey Sauce:
In a frying pan with sides, combine sesame oil, garlic and ginger and saute for 1-2 minutes until fragrant. Add in vinegar, honey and chili with garlic sauce and bring to a boil. Add in cornstarch and whisk until combined and thickened. Taste & adjust. 

Place meatballs in your pan, coat with sauce, garnish with cilantro leaves (if you like) and serve.
This special sauce helps add moisture and tenderness to create the perfect weekday lunch or dinner. You can serve these on butter leaf lettuce cups like we did, and even add some cilantro in there for an extra splash of spice! 
Enjoy ~ and share using #northcornerhaven
Interested in other ways to cook with ground pork – here are some awesome examples by Martha Stewart.